We loved working on this fun camp website design for Dirtcamp; a kids camp based in Bromont, specializing in teaching kids how to ride mountain bikes!
Dirtcamp is a well-known mountain biking camp for kids based in Bromont, Quebec. The owner Jeff Silas wanted to redesign his old website which he had built in 2007! Given the amount of accumulated information we had from all these years, we had to streamlinem map-out and create a camp website design that was simple, easy to use and update, and informative for the decision makers (the parents), yet still fun for the camp-goers!
The camp website design process started with streamlining the whole registration process, as there were many different sessions, with different add-ons for different age-ranges. We wanted it to be as intuitive as possible for the kids (and the parents!) to navigate. We also created it completely bilingual in English & French, and ensured it to be 100% responsive in all devices.
CAMP REGISTRATION PROCESS
Jeff wanted his new camp website design to not only look nice, but to serve his business needs. He wanted to automate alot of registration tasks that he was doing manually or through the phone.
We used Wootheme's Product Add-ons to create customized options for camp sessions, such as gear rental and photo services. We also utilized Global Options to attach add-ons to certain product categories. For example, all Big Rig Sessions, would only show the 'Big Rig Package', and Little Rider Sessions would only show the 'Little Rider Package' add-on. Steam-lining at it's best!
This allowed Jeff to have all of the kids preferences saved in the backend for easy access from his tablet, and freed up his time to focus on creating more camp sessions!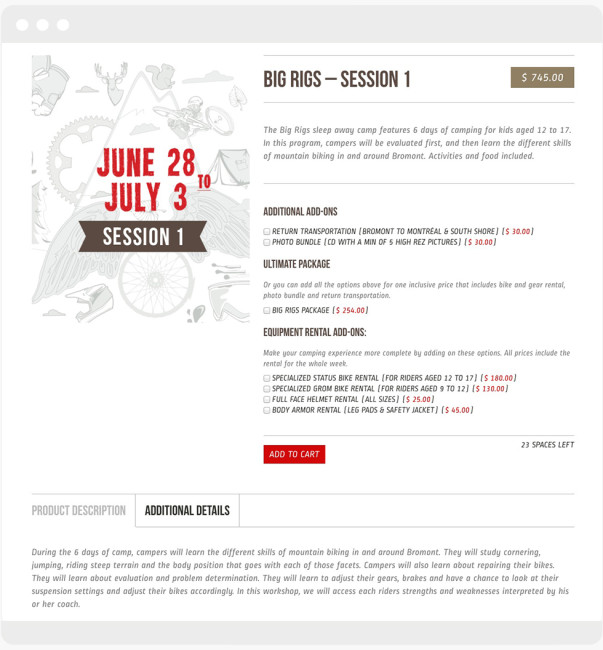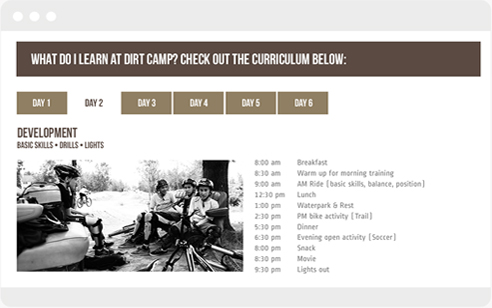 Day by day schedule
Jeff wanted the parents and kids to know what they're getting themselves into when signing up for a whole week of camp. The goal was to ease the minds of the parents who would be sending their kids off for a whole week in the mountains!
We implemented a day by day schedule curriculum in every parent product page, with custom footer banners that are interchangeable.

EASY READABILITY
The aim of this website is to get kids excited, and to ease the anxiety of the parents. Clearly laying out that there are different levels, and what the kids are projected to learn, ensures the parents that their kids will be placed with children with similar experience.
Our involvement in this project was much more than just a mountain camp website design, it included the strategy, website mapping (UX) and copywriting.