ELLEPHANT is an organization dedicated to promoting contemporary art, curated by Christine Redfern – with galleries in Montreal & Toronto.
Christine came to us during the last phases of her new business setup. As an avid art-lover, she wanted to create a space where she can curate the best contemporary pieces, adhering to her aesthetic and vision.
She wanted a simple, modern and straight to the point website that would serve as the online artboard to promote her artists, exhibitions, news and publications. She also wanted it fast to coincide with her first gallery opening!
Christine's requirements included a bilingual site simple enough for her to manage on her own, and the ability to add and edit artists, events and staff on the go. She also wanted something extremely minimal, with alot of white – so that the emphasis would always be on the art displayed.
Additionally, it was important that the site be responsive and not slow down due to it's highly graphic nature. We created a custom theme from scratch, ensuring that only elements we needed would be coded.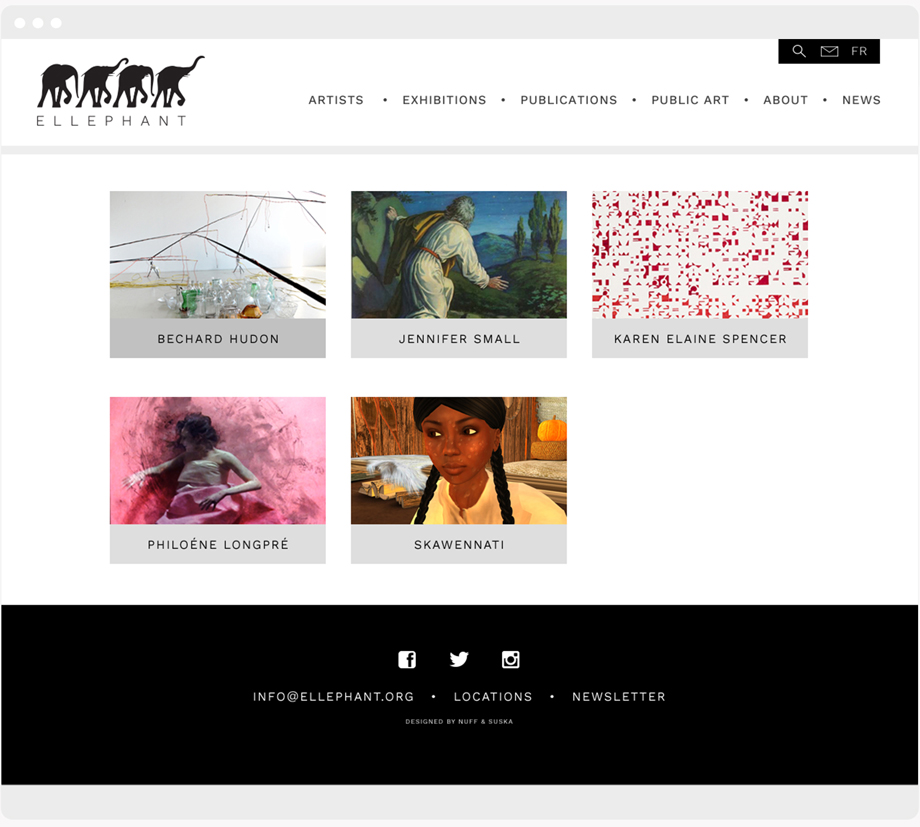 UX STRATEGY
Building a website strategy is one of the most important and often forgotten aspects of web-design these days. Designers and developers love to skimp on this section and get down to the design, without really thinking about who the target audience is and what their needs are. In collab with Nuff, we developed the wireframes along with user personas and their journey maps for ELLEPHANT, to make sure that our eventual minimal design didn't miss any needed logical flow.
PERSONAS & JOURNEY MAPS
User personas are fictional characters created to represent the different user types that might use a site, brand, or product in a similar way. We created 3 of them for ELLEPHANT (The Collector, The Culture Vulture and The Artist). This brainstorming before the design really enlightened us (and the client as well!) to what functionality is crucial in every page of the website.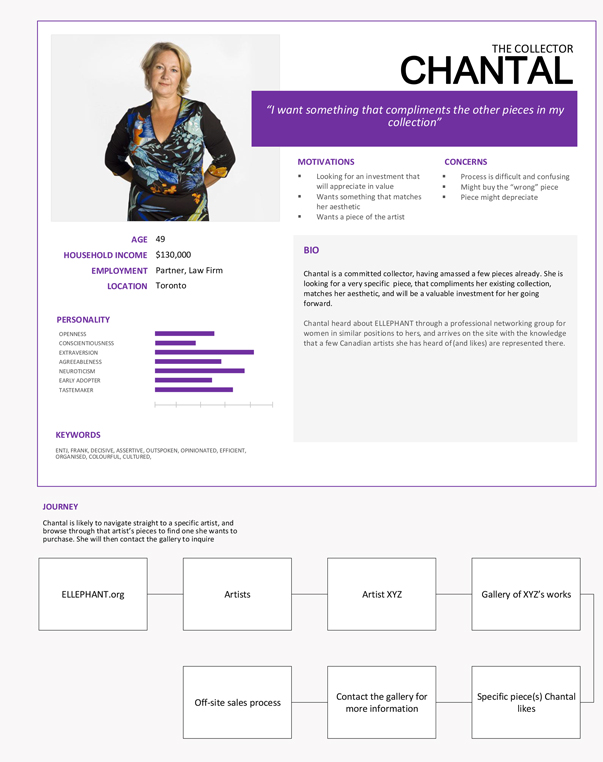 EXHIBITIONS CALENDAR
Christine wanted a very minimal way to display all of the events that her galleries would hold in the future, currently and in the past. She wanted to do all this seamlessly by putting in the information once, and allowing the calendar logic to work it's magic.
We customized a plugin for her so that all she had to do was to input the upcoming event once, and the system would automatically shift it to 'current' while it's on, and then into 'past events' when it was done. We also added a few custom fields for information such as directions and external links for press releases.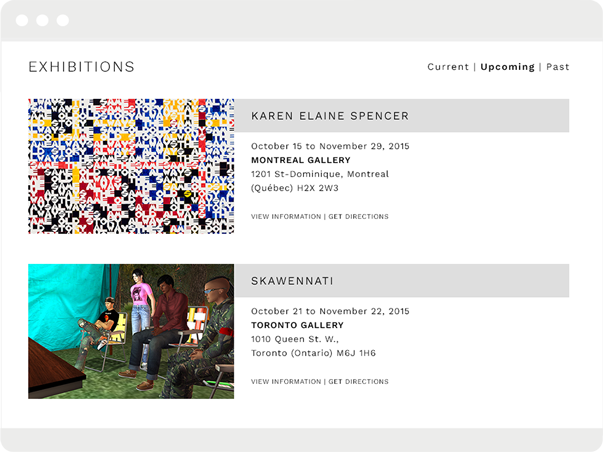 What Christine Had to Say
Suzana is a talented web designer. I recently had the pleasure of working with her to develop the website for my art promotion company ELLEPHANT. She is attentive to detail, finished work on time and on budget, and most importantly listened to my comments and then implemented them into the design in a way that gave a clean, crisp and well organized experience for the user. I will continue to use Suzana moving forward with my website needs, and will recommend Suska Digital Design to others if they are looking for creative and sleek web design.